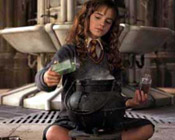 Cauldrons
are used in the magical world by potion makers, to produce any type of magical liquid.

Hogwarts School of Witchcraft and Wizardry has a special room, for Cauldrons, Text-Books, and Potions.
Cauldrons are a necessity in Potions class. You can buy them at a specail store in Diagon Alley called Potage's Cauldron Shop.
First years at Hogwarts are supposed to have pewter cauldrons for potions.